Description
BASE CAMP® M Cross Mask(designed for maximum mobility with two straps)
The M Cross Mask design features the same highly breathable, comfortable, and durable mesh fabric construction as the M Plus but offers something slightly different in the back. The M Cross sports two adjustable stretch straps that provide you with the same additional mobility possibilities. The M Cross is also excellent in the summer heat.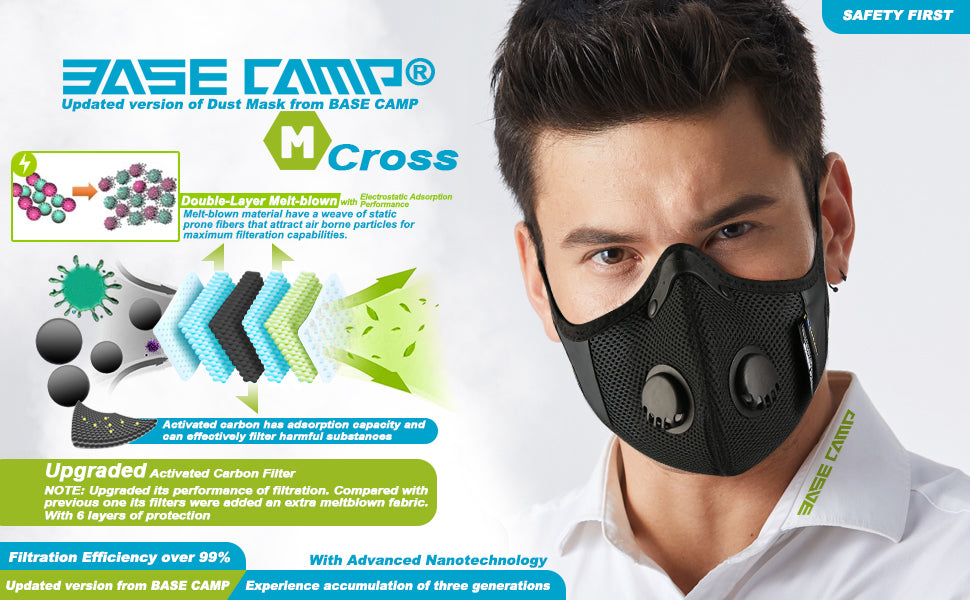 Features
+6-Layer Comprehensive Protection BASE CAMP M Cross face mask is the fourth generation of the BASE CAMP mask. Adopted EAPI filter technology and Advanced Nanotechnology, the 6-layer filters can filter out up to 99.6% exhaust gas, pollen, dust, particles, smoke, fumes, etc. Provide reliable protection for daily use.
More Breathable & Comfortable Improved the mesh materials, which are 11.3% more breathable, strengthen the ability of air circulation, dissipate heat, and reduce the moisture inside to ensure smooth breathing. Meanwhile, its elasticity is 6.1% higher for wearing more comfortably. The dust mask makes the air resistance less impactful without sacrificing its filtration.
+Adjustable for Optimum Fit Upgraded from ear loop strap and wide back strap into two quick-release straps. They're elastic and adjustable to make dust masks snugly fit your face and also more effectively keep a mesh face mask in place compared with an earloop mesh mask. Tips: Please refer to image 6 above to take measurements before purchase.
+Avoid Glasses Fogging Enlarged one-way valves are 26.3% more efficient in exhausting heat, water vapor, carbon dioxide, etc, which decrease humidity and keep filters performing high filtration. It works with a flexible nose clip to seal the breathable face mask around the nose to prevent fogging. Make you get rid of the concerns of glasses fogging while working.
+Reusable & Washable The active carbon filter is replaceable after the time of usage, and the mesh face mask shell and valves can be detachable to wash by hand when they get dirty. 
+Activated carbon filters isolate non-toxic dust, fumes, common airborne irritants, and other non-oil-based particles
+Ideal for Woodworking Construction, Mowing, Sanding, Gardening, Cleaning, Painting, Sawing, and Grinding, etc.
Package Combo Kit Includes
+ 1× BASE CAMP M Cross Dust Mask(come with one pair of valves and one filter)
+ 6× Extra Activated Carbon Filters
+ 2× BASE CAMP M Cross Dust Mask(come with two pairs of valves and two filters)
+ 6× Extra Activated Carbon Filters
+ 3× BASE CAMP M Cross Dust Mask(come with three pairs of valves and three filters)
+ 6× Extra Activated Carbon Filters
How long does a BASE CAMP® Filter last?

The life expectancy of the BASE CAMP Filter depends on many variables, such as particulate exposure density, particulate exposure duration, and user breathing rate. With that said, below are our general guidelines, as the user will have the final call to give your exposure.

+ 20-30+ hours of continuous use in heavy dust exposure to grain bins, off-roading, construction/demolition, etc.
+ 30-40+ hours of continuous use in light dust exposure to grain bins, off-roading, construction/demolition, etc.
+ 50-60+ hours of continuous use when protecting against allergens, pollutants, odors, etc.


QUESTIONS ABOUT SIZING?
>> SIZING GUIDE <<
HOW TO CLEAN YOUR BASE CAMP MASKS?
Note

1-To be safe for you and others, it is recommended that you check and tighten the valve before wearing the mask to avoid the valves falling off accidentally.

2-When removing and cleaning the mask shell and valve, pay attention to keeping and checking the integrity of the accessories so as to prevent the accessories from falling and losing accidentally.
Payment & Security
Your payment information is processed securely. We do not store credit card details nor have access to your credit card information.